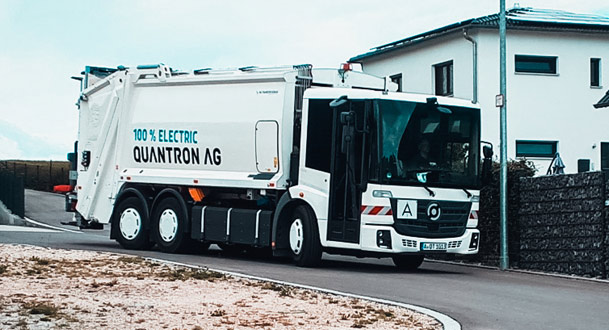 Quantron AG facilitates quiet and CO2-free garbage collection with the Q-Econic
8. July 2020
Aiwanger: "Hydrogen – enough words have been said, now´s the time for action"
1. October 2020
Cooperation between QUANTRON and MERBAG
AUGSBURG/ZURICH
On September 17th and 18th 2020, the jointly-organized fair of Quantron AG and MERBAG AG (Mercedes-Benz Automobil AG Switzerland) took place in Zurich.  Numerous press representatives, private companies, municipalities and politicians were present.  During the two days, participants had the opportunity to experience the vehicles at first hand. One particular highlight: the announcement of the cooperation agreement between Quantron AG and MERBAG AG.  Working together, the retrofitting and electrification of commercial vehicles in Switzerland is to be decisively driven forward.  The bundling of the respective competencies creates a strong partnership that provides its customers with functioning and high-quality e-mobility suitable for everyday use.
Andreas Haller (founder and board member of Quantron AG, on the right in the photo) and Daniel Bruhin (COO Merbag Commercial Vehicles at Mercedes-Benz Automobil AG) were available to clarify any open questions about the vehicles and the cooperation itself.  Claudio Mata (Head of After Sales Quantron AG) explained the QUANTRON after-sales concept and described the service network in place throughout Europe.
Another eye catcher was the electrified QUANTRON garbage truck, the Q-Econic QHB 27-280.  This fully electric refuse collection vehicle has already been successfully tested in practice on numerous occasions. In addition to the test phase in the city of Dillingen (approx. 50 km from Augsburg), the Q-Econic was also used in daily operations for four weeks at FES (Frankfurter Entsorgungs- und Service GmbH).  The electric garbage truck did its job without any problems. Already on the first day it prompted some local residents to ask the FES about the possible permanent use of this quiet garbage truck.  The FES also drew a very positive conclusion.  The responsible officials were impressed, among other things, by the large remaining driving range at the end of a working day.
---