A future-oriented, strong partner also with regard to electric buses: QUANTRON also offers its sustainable approach for passenger transportation.
From passenger vans to city buses: e-mobility for quiet, relaxed and zero-emission passenger transportation.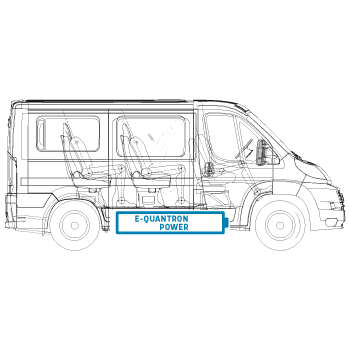 Power: 80 – 150 kW
Battery: 60 – 130 kWh
Range: up to 250 km
Power: 235 – 350 kW
Battery: 130 – 300 kWh
Range: up to 300 km
Power: 125 kW
Battery: 44 or 88 kWh
Range: up to 105 km or 210 km
Power: 230 kW
Battery: 220 kWh
Range: up to 300 km
QUANTRON CIZARIS 12 EV City Bus
The QUANTRON CIZARIS 12 EV offers a reliable and environmentally friendly solution for inner-city passenger transport. With QUANTRON, the decision for an electric bus is no longer a question of price, but first and foremost a decision for a sustainable and low-noise alternative.
Find further information here or in our CIZARIS Brochure.
Zero-emission passenger transportation in airport operations

Quantron AG also offers a broad range of buses, such as electrification of the Cobus 2700. Equipped with an 80 or 130-kWh battery, the electric Cobus can cover up to 85 or 140 km (53 or 87 miles) on one charge. Airport operations are the perfect setting for electric commercial vehicles. They usually only have to cover short distances, for example. They do this several times a day, but the frequent stops are ideal for intermediate charging. Using electric commercial vehicles at airports not only has clear benefits for the environment, because getting rid of the direct exhaust and noise emissions from the vehicles also significantly improves the employee working environment and the passenger experience.
---
The contents and illustrations on the website show, among other things, vehicles with special equipment or also partly vehicles in the development stage.
If you have any questions about which vehicles/models/variants are offered or can be repowered by QUANTRON, please contact us at sales@quantron.net.