QUANTRON electric 12 metre bus
Heading to the future
The Quantron AG is launching its own QUANTRON vehicle, the electric QUANTRON 12 metre low-floor bus, at the end of this year. The city bus will be offered in two versions: In the BEV variant, the vehicle can be ordered as early as the end of 2021, as an FCEV from spring 2022. The vehicle is offered in close cooperation with QUANTRON investor and strategic partner EV Dynamics, an European-Asian consortium of companies specialising in electric- and hydrogen-based mobility. Both the batteries (CATL) and the fuel cells (Ballard Power) come from the world's leading manufacturers of the respective technologies.
Unique: the emission-free BEV-bus is in a similar price range to conventional diesel buses.
Vehicle data QUANTRON 12 metre low-floor bus BEV
Permissible total weight:
A forward-looking, strong partner for electric buses as well: QUANTRON also applies its sustainable approach to passenger transportation. Our used buses converted to e-mobility and the new e-buses from Karsan are ideal for urban use. They are quiet, reliable and produce no emissions – riding the bus has never been this relaxing and kind to the environment!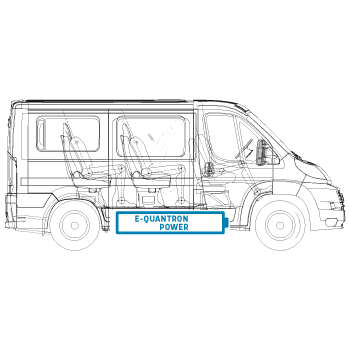 Power: 80 – 150 kW
Battery: 60 – 130 kWh
Range: up to 250 km
Power: 235 – 350 kW
Battery: 130 – 300 kWh
Range: up to 300 km
Power: 125 kW
Battery: 44 or 88 kWh
Range: up to 105 km or 210 km
Power: 230 kW
Battery: 220 kWh
Range: up to 300 km
Exclusive distribution of new Karsan e-buses in the DACH region and service partner

Quantron AG has signed a dealer agreement with Karsan to expand the distribution and service network in Germany, Austria, and Switzerland. We have the exclusive rights to sell and service the fully electric Jest Electric and Atak Electric buses, which are made in collaboration with the global player BMW (BMW i3 technology). We have a unique selling point with these vehicles, as there are no equivalent bus models in these sizes. There are enormous sales potentials for these e-buses for passenger transportation in cities and at airports and plants.
Karsan is the Turkish pioneer in the automotive sector and the only independent, multi-brand vehicle manufacturer in Turkey. It has been manufacturing for the automotive industry for more than 53 years, making its own vehicles and parts for leading global brands in the commercial vehicle industry.
Small, powerful bus for city and plant transport
The Jest Electric is the right choice for your city or your business. Thanks to its compact size, it easily handles narrow streets or roads on your plant premises, bringing all passengers safely and quietly to their destination with zero emissions. The Jest Electric gets its power from an electric BMW motor and is always a pleasure to drive with its high gradeability and outstanding road performance.
You will find more information on the mini e-bus in the Jest Electric brochure.
Mobility redefined
With its powerful 230-kW electric motor and a range of up to 300 km (186 miles), the Atak Electric overcomes any challenge in city or large plant transportation. This is facilitated by its dynamic, compact design and resulting, outstanding maneuverability. Seniors and parents with strollers can get on and off easily thanks to the low floor. The low-set and comfortable seats are easily accessible.
You will find more information on the midi e-bus in the Atak Electric brochure.
Zero-emission passenger transportation in airport operations

Quantron AG also offers a broad range of buses, such as electrification of the Cobus 2700. Equipped with an 80 or 130-kWh battery, the electric Cobus can cover up to 85 or 140 km (53 or 87 miles) on one charge. Airport operations are the perfect setting for electric commercial vehicles. They usually only have to cover short distances, for example. They do this several times a day, but the frequent stops are ideal for intermediate charging. Using electric commercial vehicles at airports not only has clear benefits for the environment, because getting rid of the direct exhaust and noise emissions from the vehicles also significantly improves the employee working environment and the passenger experience.
---
The contents and illustrations on the website show, among other things, vehicles with special equipment or also partly vehicles in the development stage.
If you have any questions about which vehicles/models/variants are offered or can be repowered by QUANTRON, please contact us at sales@quantron.net.