QHB 27-200/280 BEV
A benefit for residents and workers
The QHB 27-200/280 (based on the Mercedes-Benz Econic) has already been on Germany's roads since mid-2020. Our heavy-duty 6×2-4 e-chassis is used in the configuration as a refuse collection vehicle – highest efficiency and low noise level without emissions. Thus, the e-waste vehicle is not only a benefit for local residents. By eliminating exhaust fumes and engine noise, the working conditions of the drivers and loaders at the vehicle are also significantly improved.
Vehicle data QHB 27-200/280
up to 200 km* (sufficient for a 9h shift incl. 2 collection tours)
up to 27 t permissible gross weight without gearbox (up to a gradient of 14,4 %, gearbox solutions available)
3.450/1.350 or 3.900/1.350 mm
Tare weight chassis with body:
Yes, for new and used vehicles (e.g. because of the central engine concept)
Benefits 
New vehicles and retrofitting of existing and used vehicles possible
State subsidies of up to 80 % of the additional costs*
Toll and tax exemption
Direct drive, no gearbox required
Frame interior is not used (free space for superstructures / components)
e-PTO 50 kW output power for the superstructure function
Standing height in lowentry cab with high roof
Folding door on passenger side for quick and trouble-free exit and entry
Quiet and emission-free operation: a benefit for residents and employees in and around the vehicles
Easy driver changeover thanks to familiar controls
Lower maintenance, repair and operating costs compared to diesel vehicles
Enhancement of own corporate image through sustainable transports
*State subsidies depend on the respective federal state and the individual requirements of the applicant.
Succesful in operation 
The QHB 27-200/280 (based on the Mercedes-Benz Econic) has already successfully confirmed its quality and suitability for everyday use in test operations at more than 30 waste disposal companies.
For example, the waste collection vehicle was used in normal operation for over two weeks in the waste management company of the city of Ulm: around 900 waste bins a day on an average distance of 80 km. The actual range in 9-hour collection operation is well over 130 km without recharging the battery and the range without taking into account the body energy requirement is up to 200 km with a battery capacity of 280 kWh.
Successfully tested in over 30 waste management companies, for example in
Empower the Future 
Every day, tonnes of waste are collected and transported from private households and companies with waste collection vehicles. However, the classic diesel drive, which is usually used in these vehicles, was never developed for stop-and-go use. Especially for refuse collection vehicles, an e-drive is the optimal choice thanks to its powerful, emission-free and quiet e-drive. The time has come for a rethink and a more sustainable future. Whether you are a private waste management company or a local authority, something has to change now.
At QUANTRON, we are enabling a future that makes waste transport efficient, sustainable and clean.
Environmentally friendly, quiet, reliable and safe – that is the QHB 27-200/280 BEV.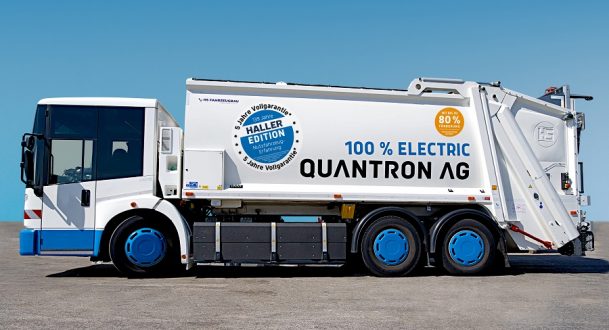 For more information, see our Q-Heavy overview brochure and our
Q-Kommunal with HS Fahrzeugbau brochure.
If you have any questions, please do not hesitate to contact us.