QHM FCEV / FCEV AERO
New standards in heavy long-distance transport
The hydrogen-electric QUANTRON QHM sets standards for heavy long-distance transport: the integration of all components within the frame structure (without compromising on dimensions and application of the ISO directive for semitrailer combinations) and this with the special feature that long-distance cabins are also possible.
The hydrogen tanks are fully integrated in the chassis. In addition, H2 consumption is optimized by a specially developed intelligent Q-ENERGY management system. This realizes maximum efficiency in the interaction between e-axle, fuel cell, high-voltage battery and 24V as well as HV auxiliary consumers.
Vehicle data
QHM FCEV 44-1000
Max. e-axle power cont. / peak:
Vehicle data
QHM FCEV AERO 44-1000
Max. e-axle power cont. / peak:
QUANTRON AERO: "smart" minor changes lead to range improvements

ca. 20 % drag reduction
ca. 10% Range improvement
with only minor changes
QUANTRON & aeco.green expertise
bespoke QUANTRON design-language for optimised airflow and maximum efficiency
QHM FCEV AERO 65-900 / 65-2000 Nordic Version
Vehicle data
QHM FCEV AERO 65-900 /
65-2000 Nordic Version
Max. e-axle power cont. / peak:
Gross combination weight (GCW):
*depending on tank capacity and filing pressure
**depending on registration limits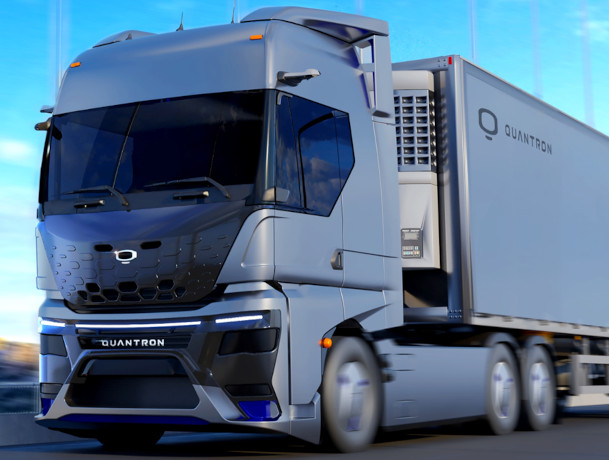 Benefits QHM FCEV
FCmove™-XD 120 kW fuel cell from the world's leading hydrogen expert Ballard Power Systems
Top range of up to 700 km (54 kg hydrogen tank capacity) or 1,400 km (116 kg hydrogen tank capacity)
Uncompromising integration of all components within the frame structure for maximum everyday usability (no "hydrogen backpack" for standard configuration according to ISO 1726)
Application of the ISO guideline for tractortrailer combinations to ensure interchangeability of semitrailers and tractor units at national and international level
O ptimized H2 consumption through intelligent Q-ENERGY management system
Long-distance cabin
Enhancing your own corporate image through sustainable transports
State subsidies*
*State subsidies depend on the respective federal state and the individual requirements of the applicant.
QUANTRON INSIDE
FCEV truck platform
bundling world class components 
QUANTRON INSIDE: Energy management system for maximum efficiency & range
Ballard Power Systems:

FCmove™-XD fuel cell with 240 kW (2×120 kW)
54 kilograms of on-board hydrogen storage
118 kilowatt-hour battery pack
Range of up to 700 kilometers with 44 t total payload weight

NPROXX (hydrogen tanks):

Gravimetric storage density >7,1 %
UN ECE 95 Crash Test ready
H70HF ready industrialized globally-standard 70 MPa hydrogen heavy-duty vehicle high-flow
QHM FCEV: Q-Retrofit

QUANTRON focuses on sustainability in everything it does. Our Q-Retrofit in particular saves further emissions from a new vehicle production, as the drive train of an existing vehicle is converted from diesel to a hydrogen-powered solution – an enormous potential for effective resource conservation and our environment.
Empower the Future 
Every day, tons of goods of all kinds are transported and delivered all over the world. Everyone wants full shelves and not to wait long for their goods. Especially on the long haul, the use of trucks has grown extremely in recent years – easily recognisable by the motorway rest areas bursting with trucks every day. Diesel trucks produce thousands of tonnes of harmful exhaust gases every year as a result. That is why it is important to have the right vehicle.
At QUANTRON, we are enabling a future in which emission-free transport is efficient, sustainable and clean.
Environmentally friendly, quiet, reliable and safe – that is the QHM FCEV.
For more information, please see our Q-Heavy brochure.
If you have any questions, please do not hesitate to contact us.