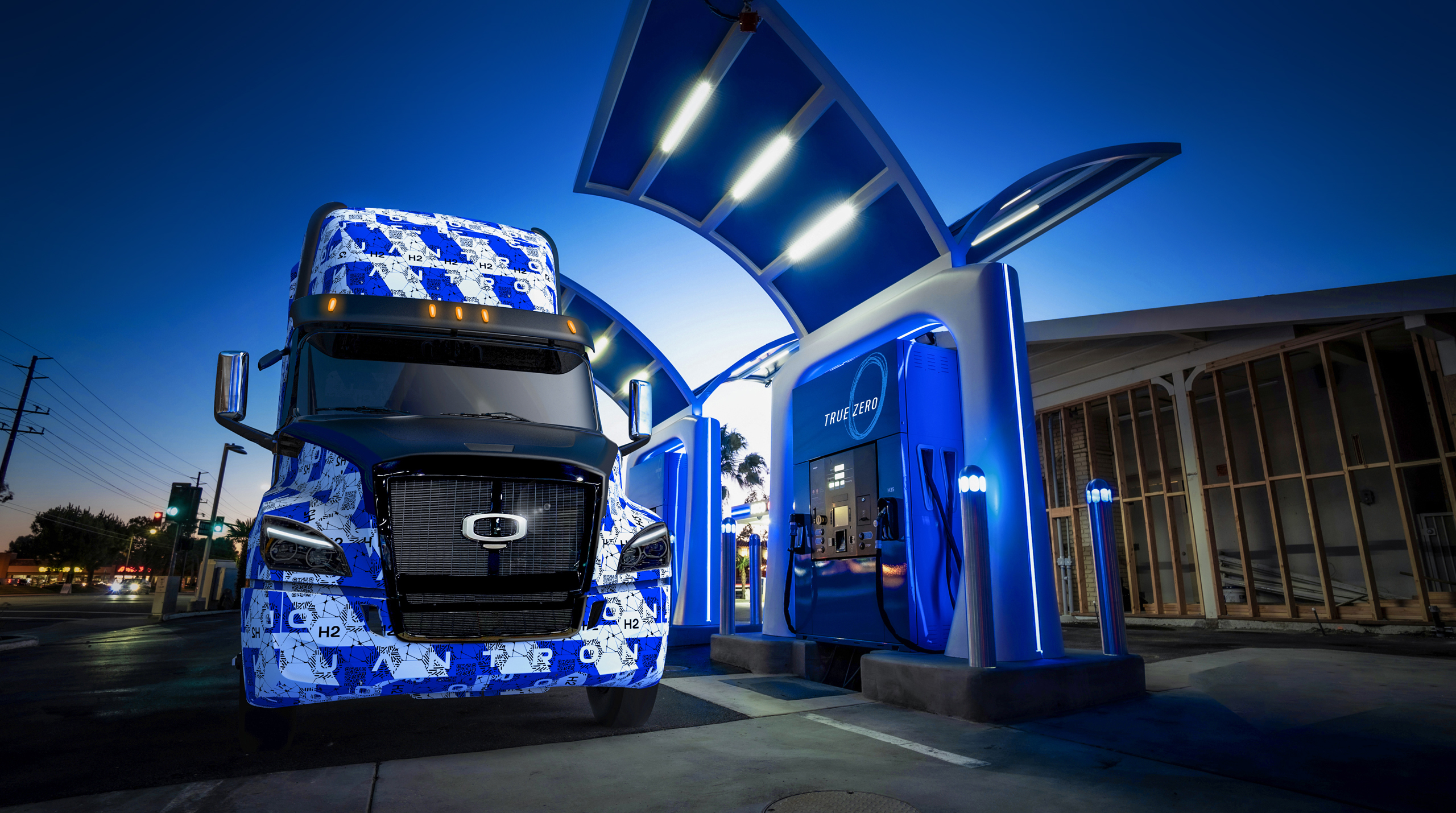 Quantron US, a subsidiary of the Quantron AG based in Germany, will bring range-leading hydrogen-powered trucks and an industry-first 360° solution platform to the US market.   
Based in Auburn Hills, Michigan, Quantron US brings together a management team with an average experience of 35+ years in automotive and truck development with Quantron AG´s and Haller Group´s 140 years of commercial vehicle experience.    
Our 360° solution – Quantron-as-a-Service – gives fleets access to a turnkey offer that includes FCEV trucks, hydrogen, hydrogen refueling stations, and a broad array of solutions. This is available on a cost-per-mile basis and designed to help customers easily and efficiently manage the complicated transition to hydrogen-powered, zero carbon fleets.
Statement by Andreas Haller,
Founder & Executive Chairman of Quantron AG:
"It's great to see how quickly Quantron USA, Inc. has grown in recent months. There is a high demand for zero-emission trucks for transportation in the heavy truck class in the USA. Together with this talented and motivated team, we will work to bring the first hydrogen-electric QUANTRON Class 8 truck to the U.S. market later this year."
Statement by Richard Haas,
CEO Quantron US Inc., about Quantron US:
"The US heavy duty trucking industry is entering a new era of clean transportation, replacing the traditional diesel HD trucks that have dominated the industry for the past 100+ years. As businesses and transport providers look to provide clean alternatives at TCO levels in line with today's well developed diesel ecosystem, several technologies are emerging. One of the most promising new technologies for long haul Class 8 trucking is the Hydrogen Fuel Cell Vehicle – which is expected to provide range, refueling times, and reliability that meets or exceeds today's diesel fleet. We believe that BEV commercial vehicles are well positioned in adjacent segments that require less range and where charging times are more flexible. Here at Quantron US, we aim to provide a thoughtful combination of product, infrastructure and service solutions that address the real world needs of our customers."
QUANTRON Class 8 FCEV Truck
---
For the successful development of our FCEV Class 8 tractor, our highly experienced supply chain team surveyed the emerging technology supply base globally for compatible components and systems. We have identified suppliers and partners with the most comprehensive and detailed development programs, the most realistic outlook for best-inclass performance, and their associated industrialization plans. Our team of experienced automotive engineering experts, in conjunction with our carefully selected supply base, are working diligently to optimize the overall performance of this vehicle. We will continue this process of partnering and optimizing as this nascent industry segment moves forward, with the latest and most robust strategies always at the forefront of our efforts. In this way, as the ecosystem for FCEV Class 8 vehicles evolves, QUANTRON will continue to be at the leading edge as this segment develops from first technology projects today to high volume industrial production over the next decade. Being flexible and remaining on the forefront of this journey is how QUANTRON will remain a key player in the segment over the long-term.
The first models available will be Day Cab, however we are targeting to introduce a model with a sleeper cabin by the second half of 2023.
Preliminary Technical Specification
* Concept Demo is 110 kWh. 200 kWh solution available 2Q 2023.
** Concept Demo is 80 kg. The 100 kg solution available 4Q 2024.
*** Fully loaded range @65mph is ~650 miles. 750+ miles of range considers typical California conditions. 55mph/90% loading.
**** Refueling time is currently being designed to SAE J2601-5, which considers 300g/s as the target.
Richard Haas
CEO
Haas is the owner of Haas Enterprises, LLC and was previously the President and CEO of Mahindra Automotive North America. He has more than 40 years of automotive new product development experience in North America, South America and Asia from previous leadership positions at Ford Motor Co., Mazda, Tesla and Mahindra.
Damaris Meyer
CFO
More than ten years of experience in senior management positions at Siemens and Siemens Healthineers, including many years spent in Asia. Most recently, Damaris Meyer was managing director of evosoft GmbH. Her expertise lies in software and in the development of new business models and strategies for both start-ups and existing companies.
Richard Ansell
Vice President Marketing/PR
He has over 30 years experience in automotive and B2B marketing and branding with companies such as Mahindra Automotive North America and Visteon Corporation. His responsibilities include marketing, public relations and government relations.
Henrique Martins
Vice President of Homologation & Compliance
Henrique is bringing over 25 years of automotive experience with him and has held numerous positions at traditional automakers such as Ford, General Motors, as well as at start-ups. Henrique has extensive international experience and is well-positioned to lead QUANTRON's homologation and compliance efforts.
Denise Vallis
Head of Program Management
She has over 30 years' experience as a Program Manager, Project Manager, and Design Engineer. Denise Vallis has worked at multiple suppliers and OEM's in Detroit, Germany, and California on concept, prototype, and production vehicles. She also worked at Siemens PLM software for nine years, where she eventually served as the Automotive Technical Manager for the US mid-market.
Headquarter Quantron US, Inc.
Contact data
2521 Commercial Dr
Auburn Hills, MI
48326
Email: info-us@quantron.net
QUANTRON Class 8 FCEV Truck
QUANTRON white paper BEV or FCEV?